Lessons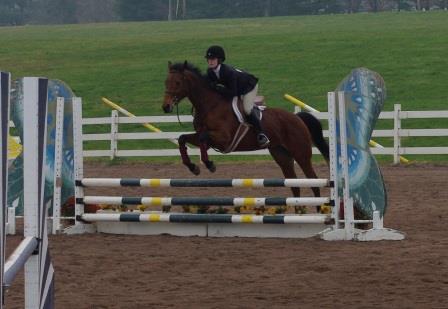 Lessons are held at Fox View Farms, a local riding stable about 10 minutes from the Bucknell campus. Lessons are taught by Farra Phillips-Hillyard of Fox View Farms. To read more about Farra's background, please explore the Fox View Farms website.
Lessons for the team are held for 10 weeks each semester. Lessons are one hour in length and generally consist of a half hour spent working on the flat and a half hour spent working over fences. Riders are placed in a lesson group based on past riding levels, as well as a "ride-off" that the team holds each semester at the beginning of the semester for new riders. Lessons are arranged around class and work schedules on campus, so that a student's school schedule is always respected. Each rider has one one-hour lesson a week, unless they elect to pay for more lessons.
Lesson groups always consist of one rider who has a car on campus. There will be no more than 4 riders total in a lesson group at any time. Riders are picked up by the driver of the lesson group at least an hour before the lesson begins in order to have time to tack up at the barn. Riders then check the Bucknell whiteboard to determine which horse they are riding that lesson. Farra decides the night before which horse or pony a rider will be riding in that week's lesson. Generally, a rider is put on a different mount every lesson in order to prepare for the IHSA horse-draw-style show. Riders will then tack up and enter the ring. During the lesson, both flat and fences work will be done. After the lesson, riders are expected to cool down and untack their horses before leaving the barn. Overall, one lesson generally takes 2.5 to 3 hours, from the time the riders are picked up until the return to campus.
If you choose to board your horse at Fox View Farms, you will probably not ride your horse during lessons. Private boarder lessons can be arranged through Farra. If you are interested in boarding, Farra needs at least two months' notice, so it is recommended that you contact her as soon as you decide to attend Bucknell. Stalls for boarders are leased at a first-come, first-served basis. Please contact Farra for pricing.